Fort Myers Beach is located on Estero Island. Like all of the inhabited barrier islands of Florida, it is accessible by bridge. However, that's not the best way to get there. This seven-mile stretch of beach is the most easily accessible to Fort Myers, but it's not the only one.
Beaches stretch for miles and small private beaches that you can get to by boat only. You may need to anchor out and wade or swim to shore at a few of Fort Myer's best beaches. However, you can pull up on the sand at other beaches and make a day of it.
The weather is lovely year-round in Fort Myers, and almost every day is a day for the beach. So visit the southwest coast of Florida, rent a boat, and find the best beach for you in Fort Myers.
Best Fort Myer beaches to explore by boat
Fort Myers Beaches encompass Fort Myers Beach on Estero Island. From north to south, Boca Grande, Cayo Costa, Captiva, Sanibel, Lovers Key State Park, and Big Hickory are accessible from Fort Myers by boat.
Each of these beaches is open to the public. Although they are all accessible from the mainland via their bridges, except for North Captiva Island and Cayo Costa, visiting them by boat adds to a day's adventure at the beach.
Find boat rentals in Fort Myers, FL
Cayo Costa Beaches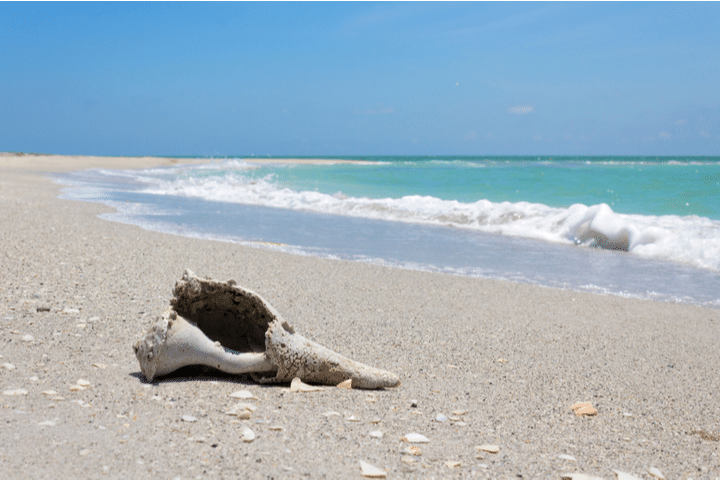 Here you will find miles of pristine white beaches, aquamarine waters, a saltwater lake, a lagoon, and campsites and cabins, so there are a few amenities here. In addition, Cayo Costa is pristine and has rental bikes, hiking trails, and miles of empty white beaches.
Located to the northwest of the Caloosahatchee River, a trip to Cayo Costa should be made in perfect weather if in a smaller boat. Or, a rental from a local boat owner can put you in a boat big enough to be on the Gulf and bay waters of Fort Myers if the wind kicks up.
North Captiva Island Beaches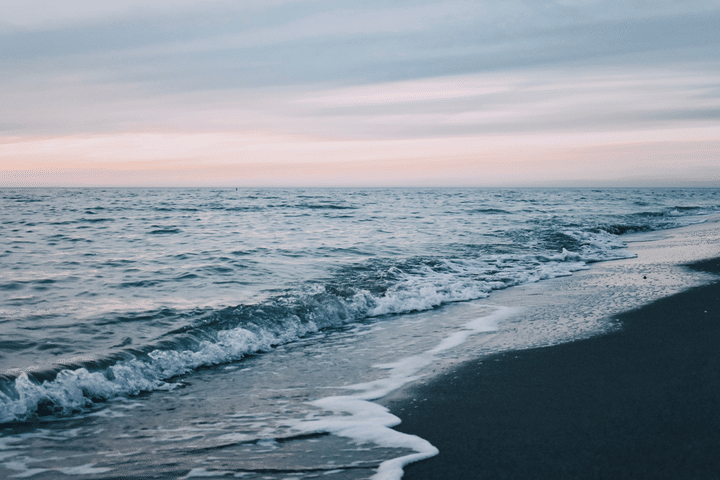 The only way to get to North Captiva Island is by boat. A large population of individuals lives on the north and south ends of the island seasonally and year-round. The beaches at these two locations are primarily private and attached to the homes built there.
However, on the Gulf side, the middle section of North Captiva Island is free of homes and habitats of any kind. So, as on other islands, look for signs that would prohibit your visit.
Captiva and Sanibel Island Beaches
Captiva and Sanibel Islands have several of Fort Myer's best beaches. Like North Captiva Island, however, many sections of the beach here are closed to the public. However, there are five beaches of note that you can reach by boat.
Allison Hagerup Beach Park
Glistening white sand and a backdrop of clear turquoise waters are the attractions of note at any Captiva Island Beach. However, the recent beach enrichment at Allison Hagerup Beach Park has widened this gorgeous beach, giving visitors even more beach to enjoy. Accessible from land, the beauty of this stretch of beach is best enjoyed from the freedom of a boat.
Bowman's Beach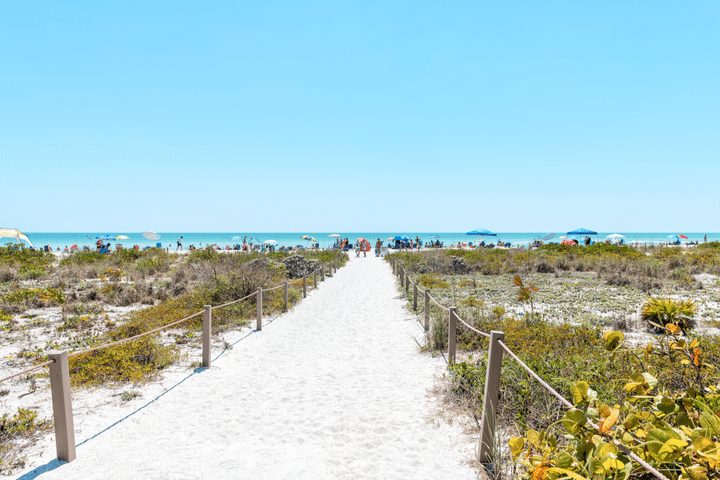 Bowman's beach is the most remote beach on Sanibel Island and lacks the polished appearance of beaches closer to civilization. This makes it one of the best beaches to visit by boat whether you live in Fort Myers or are visiting.
Gulfside City Park
Mid-island and away from the more populated areas of Sanibel Island, Gulfside City Park has a wide beach. In addition, the shallows run out a good distance from the beach, making anchoring and getting to shore easier.
Lighthouse Beach Park
Sanibel Island has one of Florida's 30 lighthouses, and theirs sits on the island's south end. There is a park here, along with the white sandy beach that wraps around the end of the island. Lighthouse Beach Park is the most visited beach in the area.
It offers several amenities, including restrooms, picnic tables, and grills. In addition, there is a pier here for fishing. However, there are no docks, so you will need to anchor out from shore when visiting Lighthouse Beach Park if arriving by boat.
Find boat rentals in Sanibel Island, FL
Turner and Blind Pass Beaches
Bracketing the Gulf side of Blind Pass on the north is Turner Beach, and on the south is Blind Pass Beach. This pass divides North Captiva Island from Captiva and is heavily visited from land and sea. The two beaches fill up on the weekend with locals and those in boats and cars from afar. So grab a boat and join the party!
Fort Myers Beach on Estero Island
The closest beach to downtown Fort Myers is on Estero Island. Fort Myers Beach stretches seven miles down the coast. Fort Myers Beach is accessible from the land; however, you can find the beach you want to visit with a rental boat from a private owner. Because with a boat, you can see more than one location more easily than if you are land-bound.
At the north end of Estero Island is Bowditch Point Park, where you can beach your boat and stay awhile. There is dockage if you choose and easy access to North Fort Myers Beach. Bowditch Point is one of the best beaches for boats in Fort Myers because it is easy to find and closest to the city.
Lovers Key State Park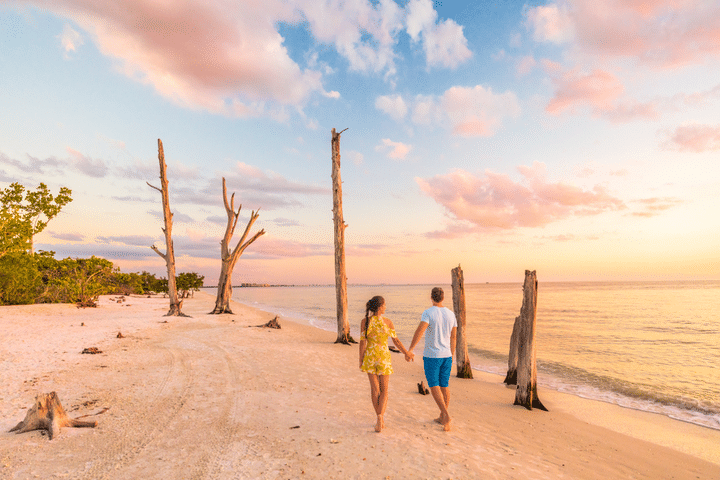 The next island to the south of Estero is Lovers Key State Park. It has a long sugar sand beach that is easily accessible by boat. You have the option of beaching or anchoring here, and there is also a boat ramp and restrooms, all in a park setting.
Big Hickory
Big Hickory Island is the next island to the south, and like Lovers Key, it has restrooms and a wide, white beach facing the Gulf of Mexico and New Pass. Smaller than many of the other islands here, it is one of the best beaches in Fort Myers to reach by boat.
Is the water clear in Fort Myers Beach?
The City of Fort Myers is located on the Caloosahatchee River. The river has a large watershed. When heavy rains inundate the area, the natural tannins from the soil and plants can turn the runoff tea-colored.
The Best Beaches in Fort Myers to Explore by Boat
The above is quite a list of beaches in Fort Myers to explore by boat, and there are less than half of the beaches you can find on the waters here in Southwest Florida. With a boat rental, you have the freedom to go where you want, when you want.
The best benefit of visiting beaches from the water is finding the least occupied section of sand or the one with the most activity. With a boat, you can find the best beaches in Fort Myers to suit you and your crew. So book your Fort Myers boat rental today!
The post Best Beaches in Fort Myers to Explore By Boat appeared first on Boatsetter.