We've all heard the term "Shipshape," meaning to keep things neat and tidy.
So when it comes to your hull, decking and other parts of your craft that get exposed to the elements, it's a sound piece of advice.
Below the surface, your vessel is continuously under attack from all manner of corrosives and organisms. And it doesn't end there. The deck and exterior are prone to just as much weathering and deterioration. The sea is a harsh environment, and you need to keep on top of your maintenance.
One of the easiest ways to prolong your vessel's life is to keep everything in shipshape, clean and good as new. With that in mind, I investigated the sea of products (see what I did there?) to offer a list of some of the best boat cleaners available.
Below the Surface
Your boat is continuously exposed to damage from the moment it enters the water. So, what are the common causes of corrosion and deterioration?
Salt
Salt will do untold damage to your hull if left untouched. It destroys, it fades, it weakens and bleaches.
If you don't believe me, see what damage salt water does to a car. I lived on the south coast of the UK for many years and saw the evidence of what salt in the atmosphere could do to rust and the paintwork of a car.
Luckily, your boat will either be constructed of wood or fiber-glass, two materials well suited to this kind of punishment. However, that doesn't mean you shouldn't maintain them.
Algae
In southwest Florida, in 2018, an algae crisis was declared. A carpet of the stuff swept into the marinas and ports, coating every vessel's hull in green gunk.
It was hazardous to paint, with warnings that it could cause damage. It was even claimed dangerous to human life. If these harmful algae are left untouched, it coats the surface of your hull and releases toxins that could cause blistering to your surface.
Barnacles
Whenever I see the word "Barnacle," I always end up pronouncing it like a pirate. Who else does that?
Barnacles are damaging little critters that stick to the underside of your hull. Once attached, they can be difficult to remove, and if you're not careful, you cause damage when doing so. They're the scourge of boaters around the world and an inevitability.
Worms
In some parts of the world, the teredo worm will burrow through wooden hulls, much like woodworm does on dry land. Your hull is then peppered with tiny holes, and we all know what a hull full of holes means. Before long, you will find your boat on the bottom of the ocean.
So, now you see what you can't see. (Is this making sense?)
How Often Should You Clean Your Hull?
A lot depends on your location, usage and the water temperatures you sail in. If you notice a loss in performance or handling, it could be that you have a lot of algae or barnacles attached to the hull, which can impact how the boat behaves. The general rule of thumb is you should jet wash and clean your hull every three months.
This is the ideal, especially if you have a smaller craft that you can drag out of the water on a whim, but for larger vessels, it might not be practical. In this case, it would be wise to conduct a bi-annual or annual inspection.
Multi-surface Cleaners
For the lightest of cleaning tasks, it's possible to purchase a multi-surface cleaner that caters to wood, fiberglass, steel and all other elements of the exterior of the boat.
Babe's Boat Bright is one such product that cleans hulls, wood, glass and steel in a spray application. It comes in one-gallon containers and is always handy to keep aboard for the day to day chores. It helps to create a water-repellant barrier and protects against the rays of the sun.
These products are inexpensive, and any novice boater can use them.
Shipshape: The Best Boat Cleaner for Sparkle and Shine
The 4 Best Environmentally Friendly Boat Cleaners
Preview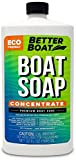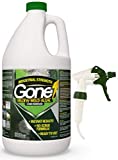 Preview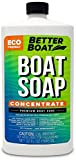 Preview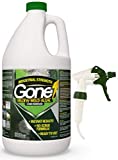 Given the rise in awareness of the planet's damage, as boaters, we're all too aware of the state of the seas. So why would we want to add to that burden?
For this reason, here are many eco-friendly boat cleaners available to help you keep a tidy vessel with a clear conscience.

Premium Grade Boat Soap Concentrate Cleaner Boat Wash for Fresh and Salt Water Marine Use Fiberglass Cleaning Supplies 32oz
ALL PURPOSE CONCENTRATED SOAP SAFE FOR ALL SURFACES: Our premium boat soap removes salt, sludge and mud from everything and anything above to below deck and is a staple in a kit of boat cleaning supplies. It works to remove salt away from seats and cushions, as a hull cleaner , boat hull cleaner and boat deck cleaner. This boat soap removes dirt and grime from fiberglass, vinyl, aluminum and painted surfaces. For optimal results, use with our Better Boat Deck Brush or Boat Sponge Set.
CONCENTRATE YIELDS 30-40 WASHES PER BOTTLE: A little goes a long way! This powerful formula quickly cleans and rinses off residue-free. Essential to a boat cleaning kit of boat supplies, this boat soap can be used with boat brushes for washing or a sponge and works as a fiberglass wash , fiberglass hull cleaner , hull cleaner for boats and more. It works great for your auto cleaning needs as a rv cleaner , truck wash soap , rv wash , rv awning cleaner, rv cleaning supplies and rv washing soap.
ECO-FRIENDLY & 100% BIODEGRADABLE: Our boat wash effectively removes dirt, grease and grime from above and below deck without harming the water, marine plants or animals. This formula also works great as a rv soap , rv wash , camper wash , rv cleaner and rv washing soap. Our boat cleaner also works great as a biodegradable car wash soap and camper cleaner.
EXCEPTIONAL QUALITY & MADE IN THE USA: Better Boat offers a comprehensive line of premium quality boat care products. We use premium materials not found in other lesser quality boat cleaners. Developed by boaters for boaters, our marine-grade products are made to strict, tested, trade-secret standards. We offer all the tools needed to make caring for your boat easier so you can spend less time cleaning and more time on the water.
This boat soap is a multi-use cleaner, effective at cleaning vinyl, painted surfaces, aluminum and fiberglass.
It's 100-percent biodegradable and causes no harmful chemicals to enter the water,

EcoClean Solutions Mold, Mildew & Algae Remover | No-Scrub Stain Remover | Instant Results for All Surfaces (1 Gallon)
60 DAY HASSLE FREE MONEY BACK PROMISE! SEE RESULTS IN A MATTER OF MINUTES – Fighting with stubborn and clinging mildew, mold or algae? This powerful cleaner will help you eliminate and get rid of those nasty mold and mildew stains in a matter of minutes! Each Gallon treats 300 to 400 square feet!
MAGIC NO-SCRUB FORMULA – Forget about mold and mildew cleaners requiring tedious scrubbing work! Simply spray the affected area and watch mold and stains literally disappear – ZERO SCRUBBING necessary!
USE FOR ALMOST ANY SURFACE – Safely eliminates mildew, mold, and algae from shower walls, toilet bowls, bathtubs, stainless steel sinks, kitchen and bath tiles, brick surfaces, concrete driveways, AC Units, wood decks etc. Ideal to use in kitchens, bathrooms, basements, attics, boats, fencing and exterior.
SIMPLE AND EASY TO USE – Apply mold and mildew remover spray at full strength. Before full application, test and let dry on an inconspicuous area. FOR BEST RESULTS: Spray on the affected area from bottom to top. Rinse with water. No scrubbing or rubbing required.
SAVE TIME AND MONEY – Safe and effective cleaning of mildew, mold, and algae within a matter of minutes! Save yourself the cost and trouble on mold remediation and get rid of those nasty stains today!
 damaging plant and marine life.
It's suitable for fresh and salt-water environments, and you get approximately 35 washes from a 32 oz bottle. It's also guaranteed not to leave any residue once washed away.
This EcoClean multi-purpose cleaner works well on algae, mold, mildew and is intended for use on almost all surfaces.
You can even use it on bathtubs and sinks, meaning that the inside of the boat will be sparkling too.
The 1-gallon bottle does approximately 300 to 400 square feet, and there is no need to scrub. Simply spray on and rinse away after a few minutes.
This biodegradable, non-phosphate boat cleaner is kind to your boat and the environment.
It comes is a 1-gallon bottle and cleans aluminum, fiberglass, chrome, gel coat, painted surfaces, rubber, steel and glass.
The makers claim this sugar-based cleaner is better than using hard acid-based detergents and outperforms the competition. You can even use it in confined spaces without ventilation!
Simple Green is non-toxic and 100-percent biodegradable, so it won't cause any harm to the environment.
For every 1-gallon bottle of concentrate, you get up to 30 gallons of cleaner solution.
It's non-abrasive, non-flammable and suitable for fiberglass, painted surfaces, as well as vinyl. It's even so eco that it contains no added scent!
The 6 Best Boat Cleaners
Preview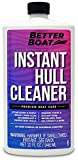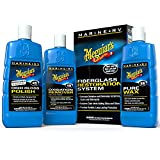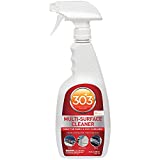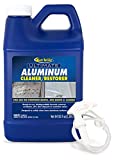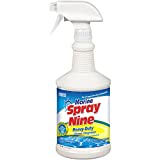 Item
Better Boat Instant Hull Cleaner
Meguiar's Marine Fiber-Glass Restoration System
303 Marine Multi-Surface Cleaner
Starbrite Aluminum Cleaner
Spray Nine Marine Cleaner
Preview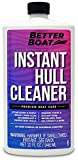 Item
Better Boat Instant Hull Cleaner
Preview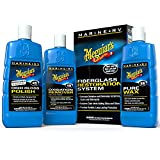 Item
Meguiar's Marine Fiber-Glass Restoration System
Preview
Preview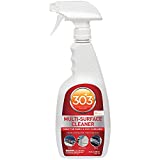 Item
303 Marine Multi-Surface Cleaner
Preview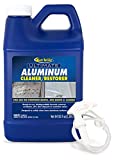 Item
Starbrite Aluminum Cleaner
Preview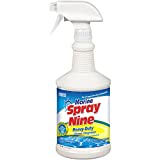 Item
Spray Nine Marine Cleaner

Better Boat Hull Cleaner for Fiberglass and Painted Boats Cleaning Marine Stain Remover 32oz
REMOVES TOUGH STAINS INSTANTLY: Our instant hull cleaner effortlessly cuts through buildup on the hull and boat bottom to leave your boat sparkling clean and new. It removes stains from waterlines, lime deposits, gas exhaust, grease, grime and hard water. Our hull cleaner is a highly effective fiberglass stain remover , fiberglass cleaner and can be used as a cleaner for boats, for marine fume removal, a waterline remover, black streak remover and rust remover.
SAFE FOR FIBERGLASS & MORE: Our fiberglass hull cleaner is safe for an aluminum hull, gelcoat, metal and painted surfaces – unlike other fiberglass cleaners or boat wash. Our effective boat hull cleaner quickly and effortlessly removes water spots, river water gunk, buildup from salt water and more. A fiberglass hull cleaner works to restore, discolored and yellowed boat surfaces to bright white. Our fiberglass hull cleaner and boat stain remover tackles the toughest, set-in stubborn stains!
WORKS ON CONTACT: Our boat stain cleaner quickly and easily removes tough new and old stains and heavy build up from the hull and bottom of your boat. This versatile cleaner can be applied using a sponge or sprayer. Simply apply solution, allow to sit for 2 minutes and rinse. This boat hull cleaner for fiberglass and painted surfaces removes unsightly stains on contact! We stand behind the quality of our boat cleaning products and marine cleaning supplies!
EXCEPTIONAL QUALITY – MADE IN THE USA: We proudly stand behind the quality of all our boat supplies and products! We are a family owned American business committed to making premium quality boat cleaning supplies.
Better Boat has developed a powerful cleaner that works on fiberglass, metal and painted hulls.
It removes waterline stains, mold, mildew and grime effortlessly. This stuff even removes rust stains!
It doesn't contain harmful acids, so it's entirely safe for use and won't harm your skin. It comes in 32 oz and is the fastest growing brand of cleaning products in the boat space.
This is an excellent product.
Sale

Meguiar's M4965 Marine/RV Fiberglass Restoration System
BRING YOUR BOAT BACK TO LIFE: Fiberglass restoration system helps to restore fiberglass and gel coats
REMOVE BOAT STAINS: Oxidation Remover will remove oxidation stains and scratches from your boat
MAKE YOUR BOAT SHINE: High Gloss Polish will make your boat shine brightly in and out of the water
WAX THAT LASTS: Pure Wax provides long-lasting and durable protection to your boat
QUALITY AND QUANTITY: Each bottle is 16oz, which means you get more bang for your boat
This Meguir's is the four-piece complete set for all your fiber-glass hull needs.
It consists of a restoration system to bring your hull back to life. This includes an anti-oxidation remover to remove stains and scratches, high gloss polish as well as pure wax to add a protective layer to all your gleaming hard work.
It restores color on gel coat surfaces too! This set is all the boat cleaner you will ever need.
This Boat Juice pack is the ultimate spring clean set.
It comes as two spray applicators; one for exteriors and another for interiors. The interior spray is effective on foam surfaces, carpet, upholstery and vinyl, while the exterior spray removes mineral deposits and hard water stains from the hull.
The exterior spray is also suitable for gel coat, fiberglass, glass and vinyl surfaces.

303 Marine Multi-Surface Cleaner – Safely Cleans All Water Safe Surfaces, Including All Types of Fabric and Vinyl, Rinses Residue Free, Manufacturer Recommended, 32oz (30204)
CLEANS AND BRIGHTENS – Recommended by Sunbrella, a leading outdoor fabric manufacturer, 303 Marine Multi-Surface Cleaner provides the ultimate cleaning power for all water safe surfaces, including all types of fabric and vinyl.
RINSES RESIDUE FREE – This multi-purpose detailing spray easily removes dust and dirt from your prized marine possessions. Simply spray on and wipe off with a microfiber towel, and you will soon see your accessories have a spotless shine from the amazing effects of this invisible drying cleanser.
VERSATILE – This alcohol-free detailer is safe for use on a variety of surfaces including chrome, upholstery, plastic, metal, aluminum, rubber, stainless steel, paint, and more. Use 303 Marine Multi-Surface Cleaner on your boat, canoe, kayak, or any other watersports toy.
DIRECTIONS – Spray on surface until wet, then wipe up or rinse clean. For best results on fabric, apply product and use a soft-bristle brush to agitate soiled surface before wiping up dirt or stain with a damp cloth. For extremely dirty surfaces, increase soak and/or agitation time. Repeat if necessary.
SHELF LIFE – All 303 Products are good for use up to 2 years from the bottle fill date which can be found as a Julian Date being a 5-digit number on the back of the bottle and is read as YYDDD. YY indicates the last two digits of the year of production, and DDD represents the number of the day of that year of production. Proudly made in the USA by a family-owned company in Chicago, Illinois.
This 303 multi-surface cleaner is more of a handy spot cleaner rather than an entire hull and boat cleaner. It comes in a convenient spray applicator and works great on vinyl, vinyl plastics, as well as metal surfaces like stainless steel and chrome.
It removes water spots and stains from fabric and even freshens and protects rubber and aluminum. And if you have a teak floor or a canvas cover, this cleaner works on that too!
This is the second time I've featured a Starbrite cleaner on the list, and for a good reason. My experience with their products has been excellent.
This Starbrite cleaner is specifically designed to clean aluminum surfaces, removing oxidation, dirt, grime and waterline stains. It's biodegradable, so better than some other boat cleaners for the environment.
Also, when used in conjunction with Starbrite Ultimate Aluminum Polish, it's excellent for restoring older boats.
Sale

Spray Nine 26932 Marine Cleaner, 32 oz., Pack of 1
A multi-purpose cleaner and disinfectant that works above and below deck
Kills germs, removes stains and yellowing and eliminates bacterial odors with little effort
Use regularly to control mold and mildew on vinyl, carpets and hard surfaces
Rated No.1 vinyl cleaner by PowerBoat Reports
Top Rated general cleaner by Practical Sailor
This spray-applied marine cleaner is an all-rounder, working above and below deck. It also deodorizes while removing stains and water spots from almost every surface.
This marine cleaner is suitable for carpets, upholstery, vinyl and hard surfaces, as well as killing bacteria as a disinfectant.
It even cleans inflatable boats and RV's, as well as canvas and lifejackets.
Final Thoughts
Owning a boat is all about the sun, sea and fun. But while there are many hours of enjoyment, there are also many hours of hard work.
Keeping on top of all the tasks takes time and dedication to keep a boat shipshape.
Getting your hands on the right cleaning products is crucial to keeping an orderly and maintained vessel, not to mention choosing an eco-option to save the planet.
All in all, these detergents are designed to make your life as easy as possible without losing their cleaning power.
---
Mark Weir lives on a canal boat in the heart of England, with his wife, Julie, and his grumpy dog, Eric. Mark likes to travel the waterways in his wide-beam barge, filming his exploits as he travels. Julie paints the wildlife, and Eric likes to bark, mostly.
The post Shipshape: The Best Boat Cleaners for Sparkle and Shine first appeared on BetterBoat Boating Blog.