Electric vehicles have become a common sight today and electric boats aren't far behind. Electric marine propulsion (powered by large battery banks) or hybrid propulsion (a combination of a combustion engine and an electric motor) have been making significant strides lately.
Currently, about 2 percent of boats worldwide are powered by electric or hybrid propulsion, but e-mobility is expected to grow by as much as 50 percent in the next two decades, so things are changing quickly.
Can You Buy or Rent Electric Boats Today?
The short answer, yes and yes. For those interested in renting an electric boat, you can explore a variety of electric boat rentals available right here on Boatsetter.
Boat renters like electric options because the boats are quieter and more efficient, and they smell less than ones with combustion engines. That's important when you rent a boat to enjoy happy hour in the cockpit while listening to your tunes rather than the hum of the engine and tasting appetizers rather than smelling exhaust.
Explore All Available Electric Boats for Rent
If you're more interested in buying an electric boat, that comes with benefits as well. Electric propulsion may be more expensive to purchase initially, but the overall cost of ownership is lower due to reduced or eliminated oil changes, less winterization hassle, and fewer or no filter and impeller replacements, not to mention the interest the boat will generate with renters who are electro-curious.
The United States represents the world's largest boating market, so e-mobility isn't only feasible here, it's inevitable. That being said, here are just a few examples of electric boats for rent on Boatsetter that will launch you into a new way to enjoy the water.
1. Duffy Electric Boats 21 Bay
Location: St. Petersburg, Florida
Click Here to View & Book this Boat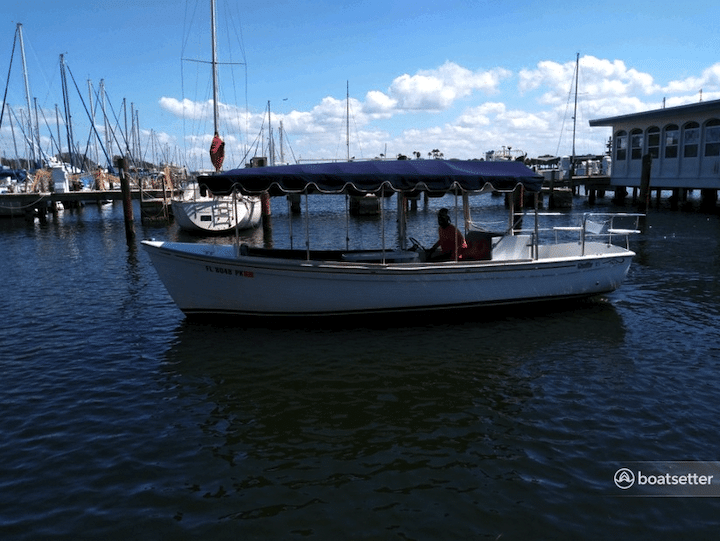 There's no better introduction to electric boating than the Duffy. These boats were developed 50 years ago by Marshall "Duffy" Duffield who put the electric motor from a golf cart into an old motorboat. Today, Duffy is the leader in small electric boats that are the workhorses of the party and harbor cruise trade.
Duffy's come in a variety of sizes and this one in St. Petersburg, Florida is 21 feet long and will carry a party of 10. Enjoy the full canopy and stereo on a serene afternoon. Just add a picnic and your friends—no captain (other than you) is necessary. Boatsetter has a number of Duffy boats available in several locations around the country.
Browse All Boat Rentals in St. Petersburg, FL
2. Correct Craft Nautique Super Air G25
Location: Miami, Florida
Click Here to View & Book this Boat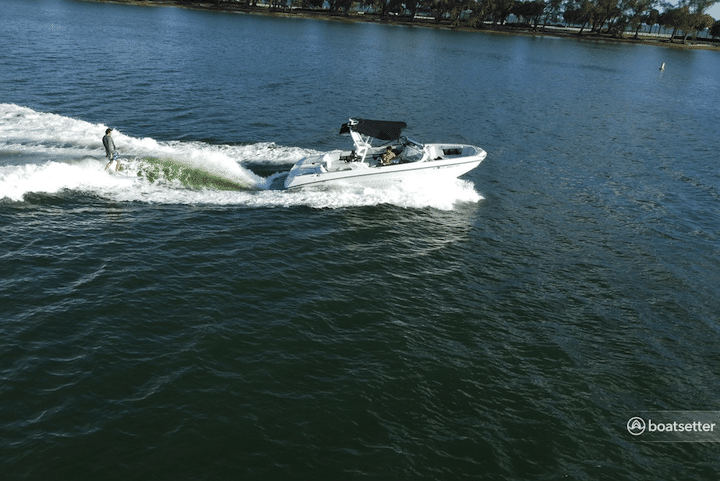 If you're the sporty type, check out this Correct Craft Nautique Supper Air G25 in Miami, Florida. This is a great tow boat if you want to go waterskiing or wakeboarding but it's also a wakesurfer.
If you've wondered what it's like to surf behind a boat without a tow rope, this is the one you need to rent. You'll be your own captain and you can bring along up to 11 of your friends for an adventurous afternoon.
Browse All Boat Rentals in Miami, FL
3. ElectraCraft Partycruiser 16
Location: Oxnard, California (just north of Santa Monica)
Click Here to View & Book this Boat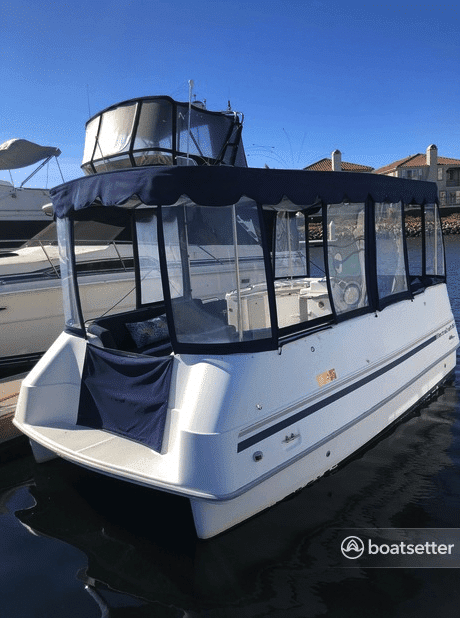 Another easy-to-drive party model is the ElectraCraft Partycruiser 16 that seats eight comfortably and due to its twin pontoons, it will stay stable on the water. Enjoy this boat year-round not only because it's based in Southern California but also because it has a canopy and a full enclosure to keep the wind out.
There's no need to hire a captain with this one and you'll be able to cruise to local waterfront restaurants or load up your own drinks and goodies and enjoy a scenic cruise around Channel Islands Harbor.
Browse All Boat Rentals Near Los Angeles, CA
The post 3 Unique Electric Boats Available for Rent on Boatsetter Right Now appeared first on Boatsetter.