Spring is here, and our team is working hard to set up all our owners for success ahead of the 2022 season.
In compliance with U.S. Coast Guard (USCG) regulations, and to maximize your earnings this year, Boatsetter will be simplifying the boat pricing process. Not only will this aid you, as an owner, in improved pricing efficiency, but this will also offer more transparency to renters.
So, what does this mean for you, and what action do you need to take?
Starting in March 2022, we are changing how you input pricing. Durations, fuel policy, and pricing will now be consolidated and entered once per boat, rather than per operator type.
For owners who are under the GEICO BoatUS insurance policy, or owners who are under their own insurance policy (who only offer renter-operated, bareboat trips), your pricing has been transposed into the new format. Be sure to double check your pricing within My Boats > Edit Listings.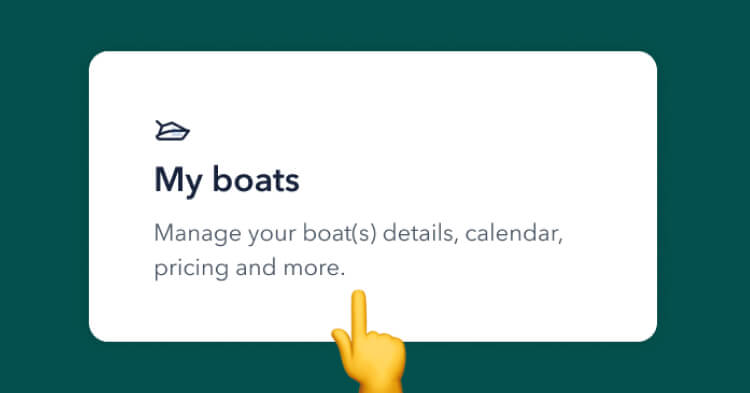 For all owners who are under their own insurance policy and offer captained trips, specifically, you will now also have the ability to enter your captain(s) rates, if you offer your own list of captains (not using the Boatsetter Captain Network).
Captain prices will be set per duration.
All renters who are booking captained boats will now see the true cost of their excursion; with the intent that this will reduce the experience of facing an unexpected fee and help renters come better prepared for their day on the water.
By establishing in the booking, how the captain is paid separately, and for how much, we will ensure our Boatsetter owners are in compliance with current USCG regulations.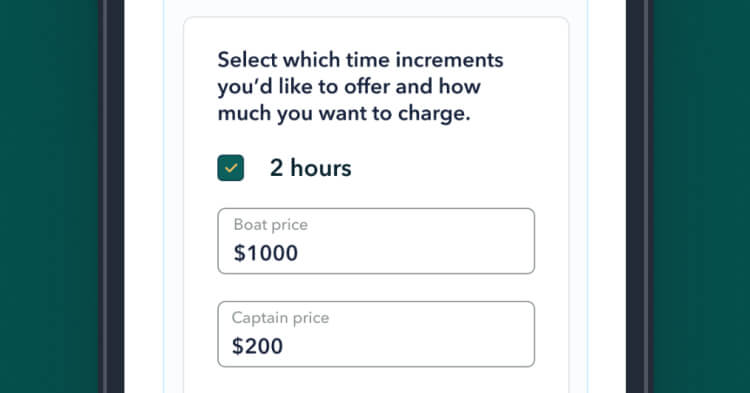 Next Steps for Commerical Boat Owners ONLY
To ensure the price of each boat in your fleet is optimized and up-to-date in time for the full feature update in April, please take the following steps within My Boats on your Owner Dashboard before April 10th:
Go to the New Durations & Pricing screen: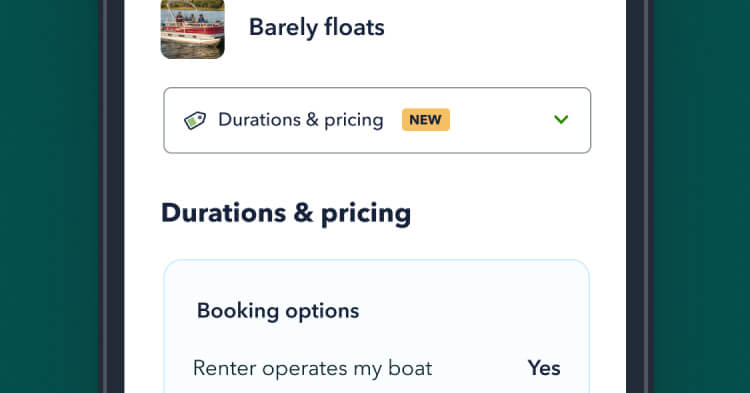 1. Operators: Select who will operate your boat, either the renter or a USCG-certified captain.
2. Captains: Select whether you will use Boatsetter Captain Network, or whether you will provide your own list of captains.
3. Duration & Pricing: Select the durations you'd like to offer, and a boat price for each.
If you are offering a captained charter, we'll also ask you for the captain's rate for each booking duration, which we'll automatically add on top of the boat price you enter.
4. Captain Payment: Select how your captain will be paid, either directly at the dock, or via Boatsetter.
Remember, in compliance with USCG regulations, the captain's rate cannot be included within the boat price.
For payment via Boatsetter, captain payments collected through Boatsetter are subject to a listing fee.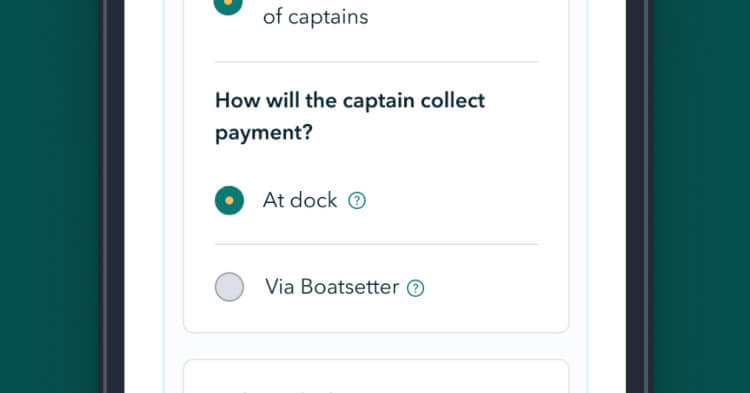 5. Fuel: Select who will pay for the fuel, either the renter pays, or you pay.
If the renter pays, the renter can refuel the boat at the end of the booking, or you can submit a receipt using our fuel reimbursement tool within 48 hours of the booking.
If you pay, the fuel is included in the boat price.
And that's it! Your boats are ready for action when we release the full feature update later in April 2022.
IMPORTANT: If you do not update your captain price, you may receive outreach from our support team to complete this step in order to keep your prices updated.
Still have Questions? Contact Support
As a final reminder, your boat(s) current pricing (found under My Boats > Edit Listings) will continue to work as is, until we roll out this new pricing feature in April. At that time, you will be required to complete this process for all the boats in your fleet. We will send out a communication to alert you of the official transition to new pricing.
In the meantime, please don't hesitate to contact Boatsetter's Support Team for more information or for help with inputting pricing for each of the boats in your fleet.
The post Enhanced Pricing & Duration Input-Experience for Owners: Coming April 2022 appeared first on Boatsetter.